In the system settings menu, you can control connection, adjustment and initialization of the system.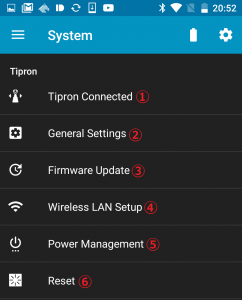 ①Tipron Connected(Change connected Tipron)
②General Settings
③Firmware Update
④Wireless LAN Setup
⑤Power Management
⑥Reset
Change connected Tipron
If you have more than one Tipron, you can change which Tipron you want to operate by following the procedure below.
Tap the system in the menu.

Tap "Tipron Connected".

Each Tipron currently on the network are displayed. Tap Tipron's name to connect.

General Settings
In general settings, you can control various settings related to the system.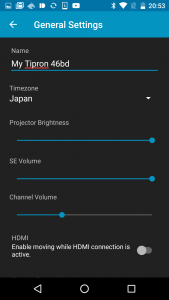 Name
This name will be displayed on the Tipron selection screen and menu.
Birghtness
Adjust projection brightnes.
SE volume
Adjust sound effect volume.
Channel Volume
Adjust the volume of content playback.
Move permission when connecting to HDMI
Set whether to allow movement when a device is connected to the HDMI input. Because damage could occur if moving while connected to another device, the initial setting it is set to not allow movement.
Camera Streaming
Set whether to preview images taken by the camera.
Framerate
Sets the frame rate of camera streaming. The higher the frame rate is, the smoother the image will be, but network connection load will increase.
Auto Keystone Correction
Set whether to perform automatic keystone correction after route playback or transformation.
Fireware Update
Periodically new firmware may be released to ensure Tipron is operating optimally.
See also this link for fireware updating.
Wireless LAN setup
To change which wireless LAN Tipron is connected to, follow the procedure below.
Tap on [System]

Tap "Wireless LAN Setup".

Then follow the on screen procedures.

Power Management
Check the remaining battery level and change settings related to the power supply.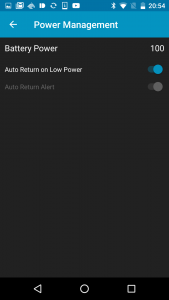 Check remaining battery power
Auto return on low power
In auto mode, when the remaining battery level is 10% or less, Tipron will automatically return to the charging station. In manual mode, automatic return is not performed.
Automatic return alert
Select whether or not to issue a confirmation alert when performing automatic return on low power.
Reset
Initialize the system to factory default settings.
See also this link for initialization.
*All non-default data will be lost after initializing.