The preset channels are available by default and cannot be deleted.
Logo channel
The logo channel displays Cerevo's logo. Use this channel when you adjust the screen or perform keystone correction.
This channel will also automatically stop other channels when selected.
Select logo channel in the channel tab.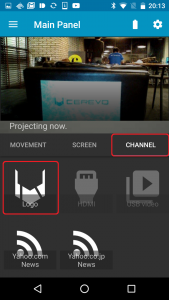 HDMI channel
The channel projects video and audio from Tipron's HDMI input.
Plug a HDMI cable into the HDMI input.
Change Tipron to projection mode and select the HDMI channel in the channel tab.

Video and audio from the HDMI input will be projected.
USB video playback channel
This channel will play videos via Tipron's USB input.
Transfer video file sfrom your computer to a USB memory drive (sold separately). .3gp, .mp4, .ts, .webm and .mkv formatted videos can be played.
Insert the USB memory drive into the USB terminal on the back of Tipron.
Transform the main system into projector mode and select the USB video channel from the channel tab.

The video list will be displayed, select a movie to project it.

By rearranging the video list, it is also possible to switch the playback order.