This section covers the functions available in manual mode from the app.
Move
This section describes how to move Tipron to any location via manual operation.
Confirm the message "Change to manual operation mode" and tap "OK". Tipron will automatically move forward from the charging station.


On the top of the screen, a live camera stream is displayed. Use the UI at the bottom of the screen while viewing the video to move Tipron.
Slide the circle in the center of the screen. Slide up to go forward and slide down to go backwards.
Long press the left circle to rotate left. Long press the right circle to rotate right.


Transformation to projection mode
After moving to the desired position, press the transform button to start projection mode.When transformation is complete, projection will start automatically.
To return to move mode, tap the same transform button again.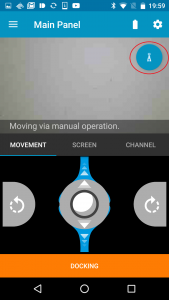 Screen adjustment
After transforming to projection mode, projection direction, angle and size can be adjusted.
Vertical & Horizontal
Direction adjustment (Pitch & Yaw)
Roll adjustment ( Roll )
Adjust the roll angle for projection.
Automatic keystone correction
and Auto focus
M
anual
keystone correction
Depending on the position or angle of the projection, there may be cases where the projection screen is distorted. In these cases, it is possible to adjust the shape of the video with manual or automatic keystone correction.
Projection Settings (Manual Focus / Brightness / Volume)
Manual focus, brightness and volume are all adjustable during projection.
Adjust the manual focus, brightness, volume.
Channel selection
A channel is used for projection content.
The Cerevo logo, HDMI input and USB Video are preset channels.
YouTube and RSS reader channels need to be registered.
Please refer to this link for how to register a new channel.
Channels registered in advance are displayed by tapping the "Channel" tab on the main panel. Tap the channel to select it.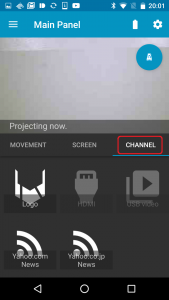 Docking at the charging station
To finish using Tipron or to charge the battery, Tipron should be docked at the charging station.
Move close to the charging station using manual mode.

Tipron will start docking with the charging station automatically.
*If Tipron cannot find the charging station, docking will be cancelled. Please confirm the charging station is powered and is placed correctly.
When docking is completed, charging starts. The system lights will turn off when charging is complete.